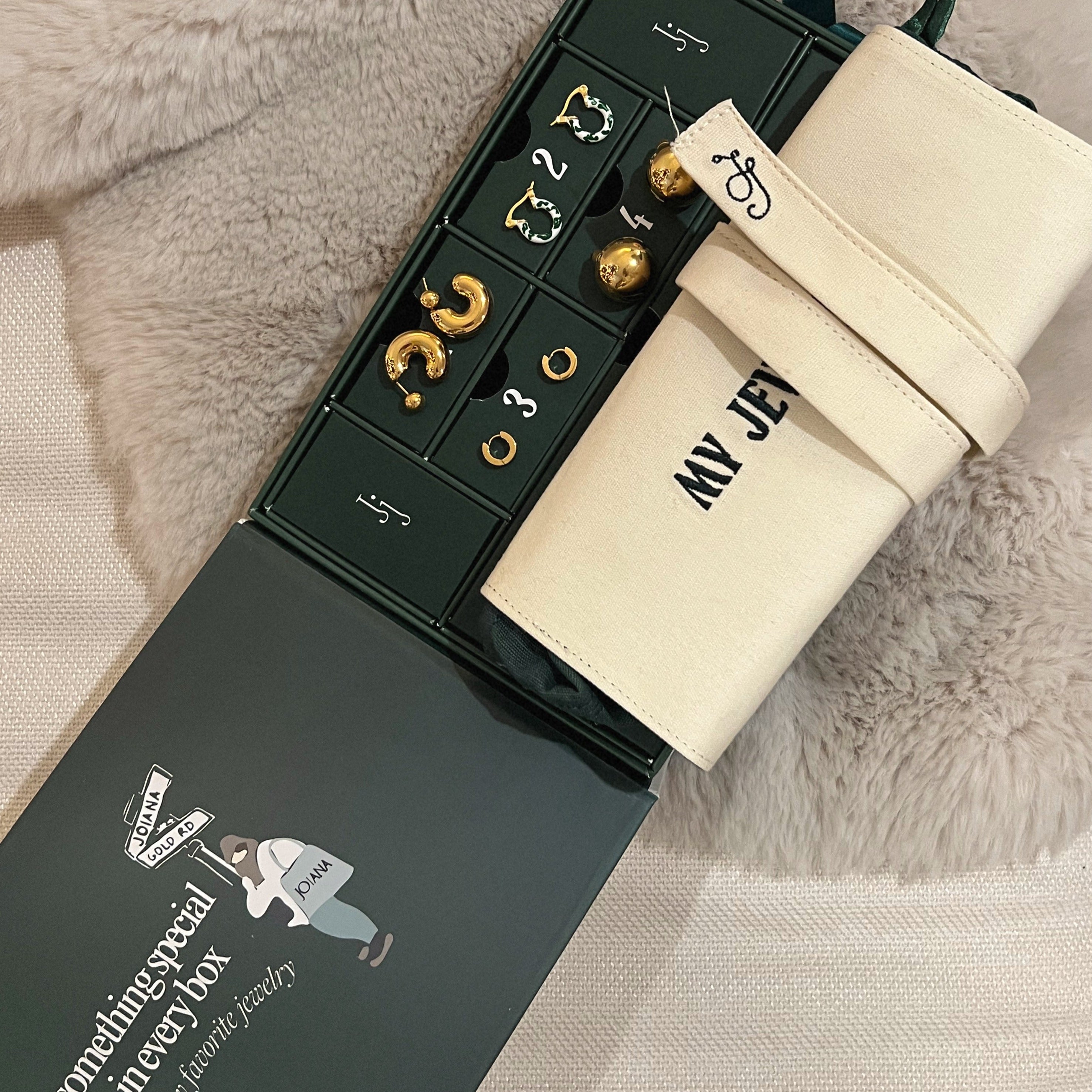 ---
Description
Joiana's version of an Advent Calendar: 5 days of gifts worth $200 for only $139!

 The wait is over, our personalized advent calendar is here!
5 Days of Gifts Jewelry Advent Calendar is the perfect way to count down the holidays! With personalized jewelry and our best selling items, you can discover something new and special every day. Plus, it comes with our brand new design of the Joiana Travel Case. Enjoy a new surprise for the following 5 days!
GOLD EARRING SET
NEW Perfect Mini Hoops
NEW Mini Daphne
NEW Perfect Studs
NEW Garden Hoops
Joiana Travel Case
GOLD ASSORTED SET
NEW Perfect Mini Hoops
NEW Mini Daphne
Garnet Necklace
Spheres Bracelet 4mm
Joiana Travel Case
SILVER EARRING SET
NEW Mini Drops
NEW Mini Triple Hoops
NEW Silver Garden Hoops
NEW Perfect Studs
Joiana Travel Case
5 Days of Gifts: ADVENT CALENDAR
$139.00 USD
Regular price
$200.00 USD
The Gift They Will Love
We created the perfect Advent Box to lead up to the exciting days before Christmas! Unbox 5 special pieces that are the perfect addition to anyone's capsule collection.
Tarnish Proof Pieces
Take them anywhere, these pieces have been tested and will last you as long as your lifetime pieces without tarnishing!
Return Policy
We currently do not accept any returns or exchanges.
Warranty
Contact us within 30 days of your purchase to the contact details below if you have any issues with your products!
Shipping Times
Your order will arrive approximately 7-10 business days from date of purchase (Places outside the US may experience longer transit times). All orders, placed after noon PST will be processed the following business day despite the shipping method. Orders placed Friday through Sunday will ship out Monday. Please allow 1-3 business days for your order to ship.